Top Benefits Of Natural Beauty Products
So far, there is no uniform, internationally valid definition of natural cosmetics. The term is also not protected by law. This offers a lot of room for interpretation – flowery descriptions and optically suitable packaging indicate at most a near-natural product. The buyer only receives real certainty if they pay attention to recognized quality seals such as NaTrue, BDIH and Ecocert. These confirm whether in fact no synthetic ingredients have been processed. What's more, it examines how high the content of ingredients from controlled organic farming or wild collection is.
Other labels such as Leaping Bunny identify products that don't test on animals. Studying the IN-CI list also reveals exactly what is in a product. So, it takes some background and more than a glimpse of the packaging to identify which in fact, are real natural cosmetics products.
One of our personal favorites is POPWHITE is a natural, peroxide-free way to whiten teeth without sensitivity. The fun part? It's purple! Based on color correcting technology, its purple formula reduces the visibility of yellow dental stains, canceling them out. Clinical trials demonstrate that POPWHITE Primer and POPWHITE Toner, when used together twice a day for 14 days, whiten teeth an average of four shades. POPWHITE's color formulas are FDA approved, and are vegetarian, cruelty-free, made in the USA and available for $24 each (or $39 for the set) at PopWhiteSmile.com and Amazon.com.
Beauty From Inside Out
This applies to natural products for skin and hair that can be ingested. You will fall in love with DOPE Naturally protein powders that will give you increased energy, youthful skin, and healthy hair in just one scoop. Try their new Atomic Beauty from their beauty and wellness collection that utilizes the powerful ingredients of Fulvic Acid, organic watermelon seed powder, sunflower seed powder, and organic coconut milk powder to promote toned and ageless looking skin, a healthy gut and endless energy. Natural is always best! Atomic Beauty and the other DOPE Naturally products are also available at rileyrose.com!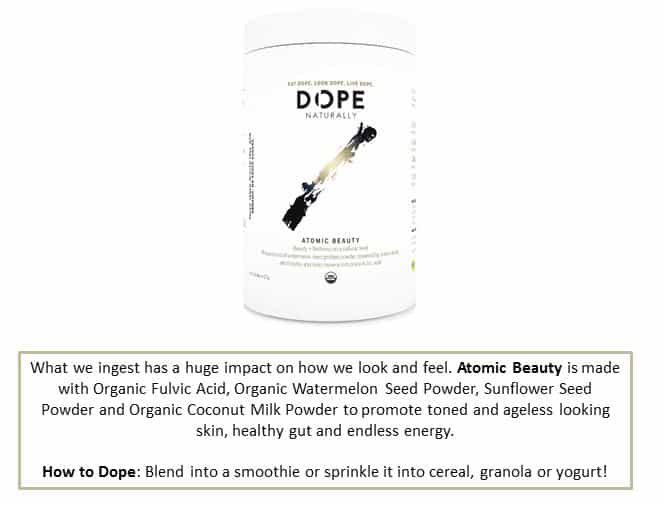 A Good Feeling – When Buying and Using
The production of natural cosmetics has skyrocketed in recent years. While natural care used to be associated with strange consistencies and odors, the consistency and smell of today's natural products are little different from traditional cosmetics. And the range doesn't disappoint: whether in cream, gel, fluid, milk or lotion form – the selection of natural products leaves nothing to be desired. Addressing different skin types and needs, from sensitive skin to men's skin to dry skin, there is the corresponding natural cosmetic product for everyone.
The Wonder of Nature
There are numerous natural ingredients that nourish and cleanse our skin. Foam can now be produced without surfactants (which consist of mineral oil) and can be made from coconut oil and sugar instead. Although it foams less intensively, the skin is less degreased, but just as thoroughly cleansed. Grapefruit or rose petal extracts are packed with natural antioxidants that protect against cell-damaging free radicals, creating an effective natural fountain of youth. Other plants such as Aloe Vera contain soothing, regenerating minerals and vitamins that intensively moisturize the skin while, for example, Shea butter gives extra suppleness.
Green Glamour
Natural cosmetics are now widely available for every budget – and can be found both in the drugstore and in luxury spas. Natural premium labels are very popular, because special emphasis is placed on handpicked ingredients.
Courtesy of BeautyPress.com